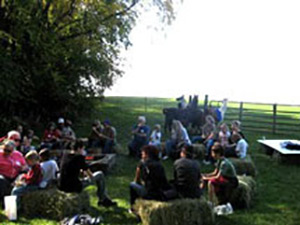 Walk into the world of llamas at your own leisurely pace. During our scheduled farm visits, people are welcomed at our place to enjoy the llamas. We've had numerous day-care groups, school groups, scouting groups and homeschool groups plan a morning or afternoon with us. If you're just curious about llamas we have an open house weekend so check our calendar and come out for a visit!  We do lots of hands-on, including petting, leading and going for trail hikes. All ages and abilities are welcome!
We do not have set visiting hours. Please call 952,442-4244 to schedule a time for a visit. Make sure you clearly state your name, phone number and date/time that you would like to visit. We do our best to return all calls—we're outside for most of the day so we usually return calls in the evening. Please pick up if you see our phone number! 
Llama Camp – Limited Space! This summer we are offering two, 3-day llama camps—filled with lots of llama activities.  See event listing for more details.  Spots fill fast so call early  952-442-4244.