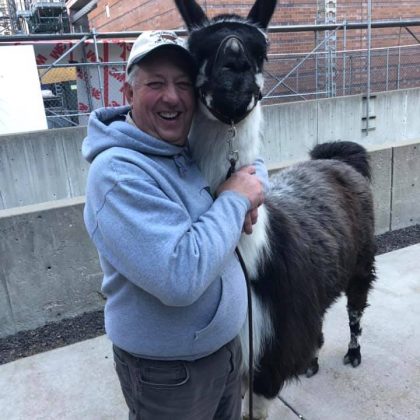 Lead a llama, hug a llama, yoga with llamas—we guarantee you'll be smiling! Visit llamas at our farm, join a llama summer camp, enroll in the adopt-a-llama program or schedule a llama inspired birthday party at the farm. We can bring our llamas to your special event or classroom. We also offer llama therapy visit opportunities. When booking your farm visit, double-check that you've selected the correct date and time.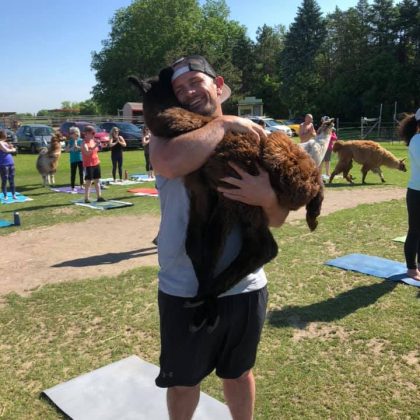 Rick Carlson, the llama whisperer, has cut back his time, but the Carlson "Kids," Ashley and Evan, are carrying on the fun at the family farm. All contact information will remain the same!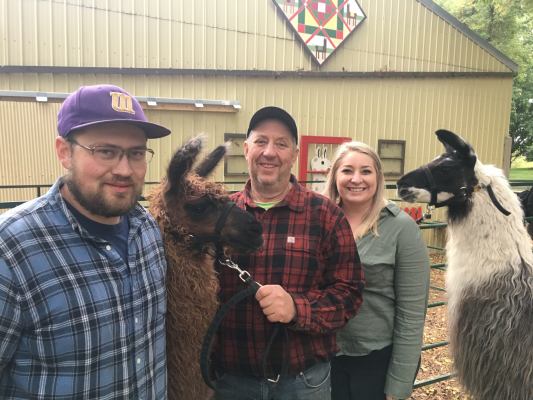 Llama Birthday Parties
Voted #1 BEST PLACE FOR CHILDREN'S PARTY
Waconia Patriot "Best of Section"
Our children's birthday parties are unique, natural, meaningful and fun. The experience will create fond memories for your child and their friends for years to come. Book your party online!
Gift Cards
Give the Gift of a Llama Experience
2023 Llama Camps
Voted #1 BEST PLACE FOR SUMMER CAMP
Waconia Patriot "Best of Section"
Registration for 2023 Llama Camps will open February 1st at 7am. Camp dates are June 13, 14, 15 and June 20, 21, 22 and June 27, 28, 29 and July 11, 12, 13. Camp times are 9 am to 2 pm. The cost is $250 per person.
Plan early! Llama camps posted on February 1st, 2022 were full in minutes. When registering include name, age, grade and camp dates preferred.
We have llama babies in the spring of the year (April and May). Llama babies are up and walking shortly after birth.  Follow us on Facebook, we always post new baby pictures! Set up a farm visit in springtime to mingle with them.
Need Gift Ideas?
All Things Llamas!
Check out our yarn, wool, raw wool and wool products, T-shirts, stuffed llama toys, notecards, socks, etc. We have new processes with new fibers coming in periodically. All of our yarn is natural and from individual llamas.
We also have Llama Compost. Llama compost has a high nutrient value. It is an extremely good garden and plant fertilizer and it is low odor.
Llovable Llamas at Large
Minnesota Zoo 2022
Our llamas will be at the MINNESOTA ZOO again this year, from late May through Labor Day at the Llama Trek Exhibit. 
More Llamas at Large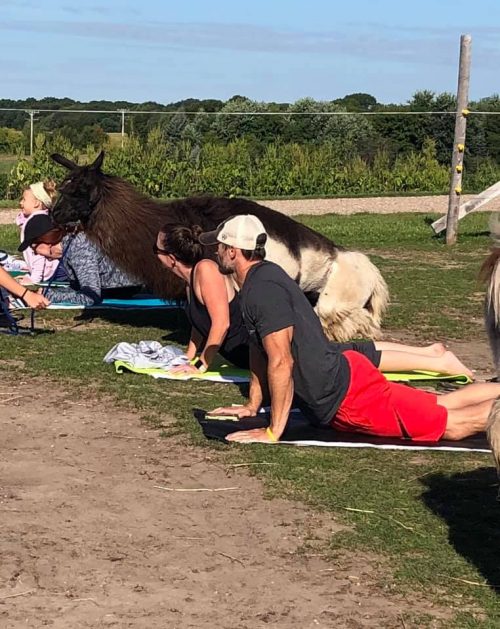 Feel the Smile!
Voted #1 BEST PLACE FOR YOGA
Waconia Patriot "Best of Section"
Carlson's Llovable Llamas
8380 County Rd  10 East,
Waconia MN 55387
Direction Alert
Apple Maps will send you to the wrong location if you don't include "East" or "E" in the address. We are East of Waconia. The entrance to Carlson's Llovable Llamas is just north off of County Rd 10 on Nelson's Cartway. Parking on the right.