Carlson's Llovable Llamas & Family
Rick Carlson, founder of Carlson's Llovable Llamas retired from the business side of his llama enterprise in 2019.
Ashley and Evan Carlson took leadership of the business in late 2019. Ashley and Evan have grown up with llamas and bring a lifetime of insight to raising llamas and helping people discover meaningful ways to connect with this very special animal.
Rick and Joan Carlson will continue to be involved in caring for the llamas at the farm.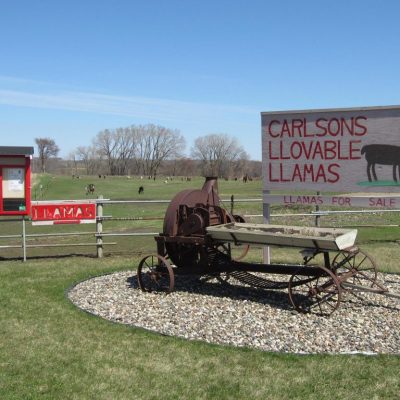 Carlson's Llovable Llamas
8380 County Rd  10 East,
Waconia MN 55387
Direction Alert Apple Maps will send you to the wrong location if you don't include "East" or "E" in the address. We are East of Waconia. The entrance to Carlson's Llovable Llamas is just north off of County Rd 10 on Nelson's Cartway. Parking on the right.
Open Year-round for Scheduled Visits
Monday 8:30am-5pm
Tuesday 8:30am-5pm
Wednesday 8:30am-5pm
Thursday 8:30am-5pm
Friday 8:30am-5pm
Saturday 8:30am-5pm
Sunday 8:30am-5pm
Why Llamas?
We raise gentle, friendly llamas. We started raising llamas because they are so good with people and kids. We offer our visitors a memorable hands-on experience, we want them to have fun and learn about these unique animals.
Llamas are mellow, gentle and friendly
Llamas are very personable and expressive
Great with young kids
Great with old kids
Great with seniors
Easily trained, quick to learn
Low maintenance
They do well in cold weather
They are alert fun and curious