4H Youth + Carlson's Llamas = 4H Champions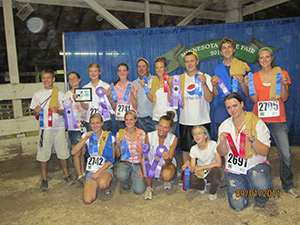 Promoting character and responsibility in youth and llamas alike. The 4-H project has grown from a dozen participants in 2001, to more than eighty kids as of 2014. Each child takes responsibility for training a llama, which we lease to the them for a nominal fee.
Our project days have educational presentations and lots of hands-on time with the llamas. The big yearly goal is for the kids to show their llamas at the Carver County Fair in Waconia, Minnesota in August. This lets the kids show-off what they have learned. We also enter our llamas in the competition at the Minnesota State Fair, providing the opportunity for the kids and llamas from other 4H projects around Minnesota to meet one another. Carver County kids have earned 20 Grand Champions, 20 Reserve Champions and 7 Honors placings since 2008.